Halloween is a time when people can let their creative side loose and dress up in fun, outrageous costumes. It's also the time of year for spooky decorations, eerie music, and of course – smoke bombs!
If you're looking to capture some amazing Halloween photos this year, using smoke bombs is a great way to do it. In this blog post, we'll talk about how to use smoke bombs for your best Halloween photos ever!
What can smoke bombs be used for at Halloween?
Smoke bombs can be used for a variety of Halloween effects – from making your own spooky fog, to adding an eerie touch to your photos. Smoke bombs add an element of mystery and suspense to photos, and when combined with the right props and costumes, can make for some truly stunning shots.
The Halloween pumpkin smoke bomb trend is one that has taken off in recent years, and it's easy to see why. Carving a pumpkin is a Halloween tradition, but when you add a smoke bomb into the mix, you get a whole new level of spookiness!
You can also use smoke bombs to create a foggy graveyard scene, make your own witch's brew, or even turn your front yard into a haunted house. The possibilities are endless!
But it's not just photography that smoke bombs can be used for at Halloween. They're a great addition to outdoor parties and can help create a spooky atmosphere for guests to enjoy. If you're planning a Halloween party this year, be sure to add some smoke bombs to your shopping list.
How do smoke bombs work?
Smoke bombs (also commonly called smoke grenades) work by igniting a small charge of composition inside the canister, which mixes with a colored dye and creates colorful plumes of smoke.
If you're new to the world of smoke bombs, don't worry – they're actually very easy to use. Look for 'wire pull' or 'top pull' smoke bombs, as these are the easiest to ignite. Simply pull the ring to the side, or to the top (depending on the product), and it will be ignited.
The length of time the effect lasts for is dependent on the product, but a typical amount of time is anywhere between 60 and 90 seconds, giving you a decent amount of time to get those Halloween photos snapped!
Tip: carefully read the instructions on the side of the smoke bomb before use, they include important safety information.
How to use smoke bombs for Halloween photography
Now that we've talked about how smoke bombs are used, let's talk about how to use them for photography.
Halloween pumpkin smoke bomb effect
The smoke bomb pumpkin effect is one of the most popular in Halloween photography. To create this effect, simply carve a pumpkin in whatever design you like. Then, position your pumpkin in a suitably spooky location, and set off the smoke bomb. Be sure to put the pumpkin's lid back on for maximum effect!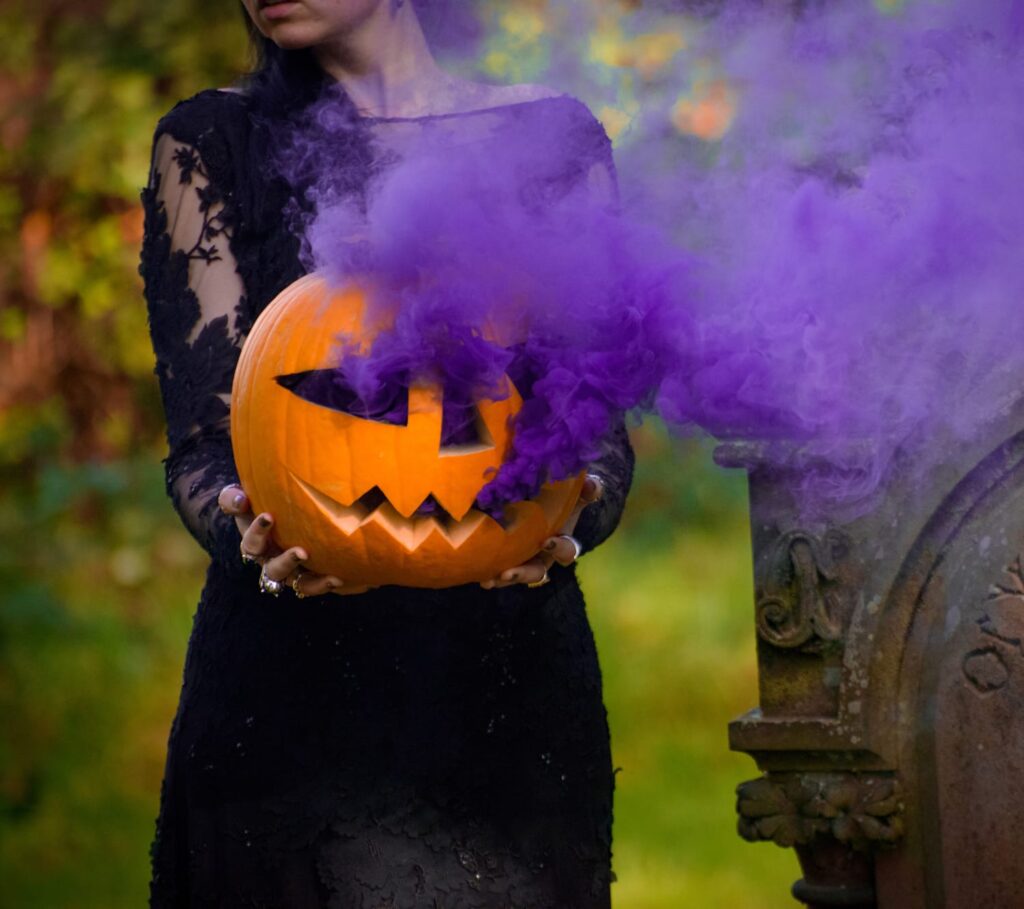 As the smoke starts to billow out, take your photos! You can experiment with different angles and locations. Some photographers choose to include a model in their shots, holding the pumpkin.
A regular sized smoke bomb such as the WP40 or TP40 is the most appropriate for these shots. You could also try the EG25 Micro Smoke for a smaller effect.
Halloween smoke bomb effect with a model
Having a human subject in your photos can really help to bring them to life. If you're just starting out using smoke bombs for Halloween photography, why not ask a friend or family member to be your model?
Dressing up in a Halloween costume, wearing a mask, and using props is a great way to add even more interest to your photos. And of course, don't forget to have some fun with it!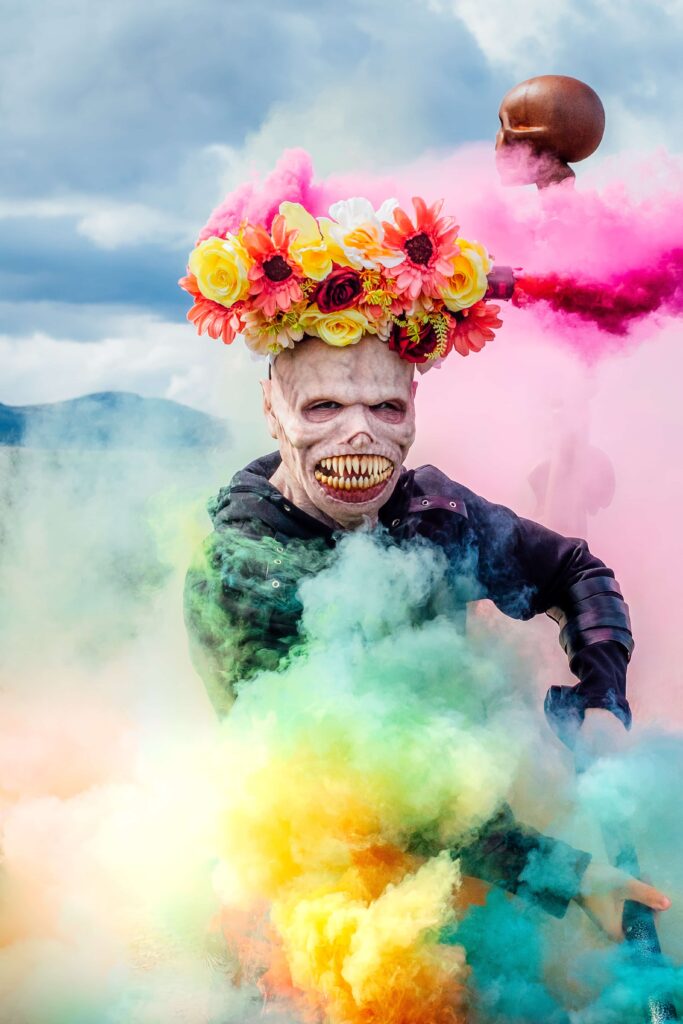 You can choose whether to have your model holding the smoke bomb, or simply use the smoke to create an eerie backdrop to your photos. Either way, using smoke bombs for Halloween photography is a great way to get some truly unique shots.
Note: most smoke bomb manufacturers recommend that models wear protective gloves if the unit is being held while in use.
The Twin Vent II smoke bomb provides a different kind of effect to traditional smoke bombs. Rather than a single stream of smoke, the Twin Vent II emits two streams of smoke, one from each end. This can create some amazing effects in your photos, especially if you use multiple units. Just ensure your model is warned that smoke will be coming from both ends!
There have been countless examples of people using smoke bombs in conjunction with Halloween props and costumes to create some truly amazing photos. If you're feeling stuck for inspiration, a quick search online will show you just how many possibilities there are.
Halloween smoke bomb fog effect
Using smoke bombs to create a foggy scene in woodland, a graveyard, or even your own back garden is a great way to add an eerie touch to your photos. For this effect, simply set off the smoke bomb, set it down on the ground, and let the hazy fog engulf the area.
Depending on the type of shot, you may also want to ask an assistant walk around the model while holding the smoke bomb once the smoke has started to billow, to create an even more atmospheric effect.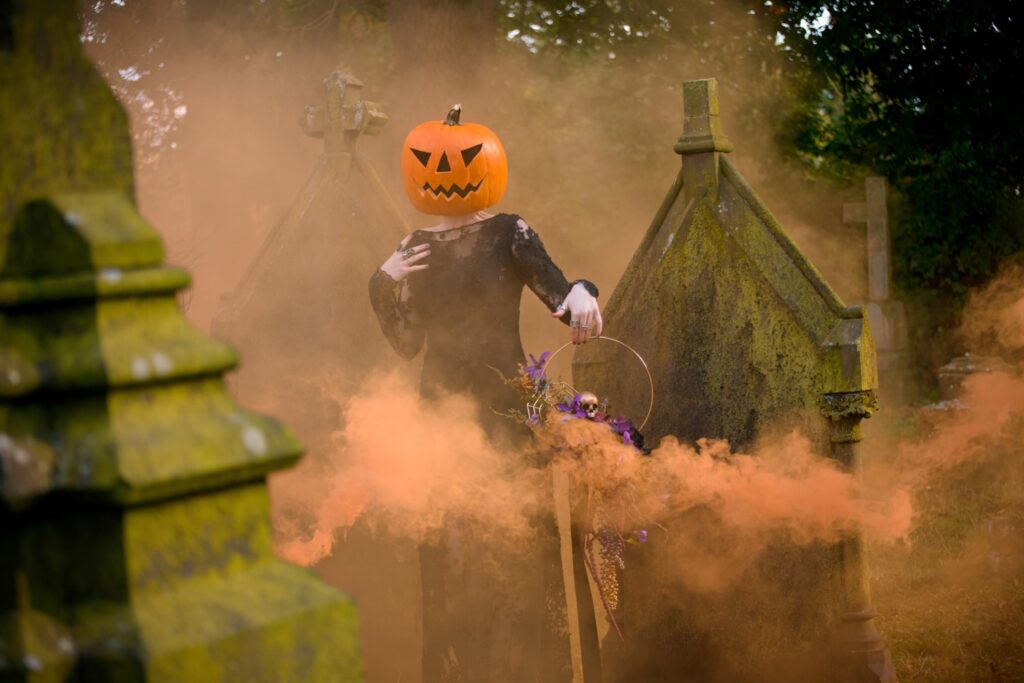 How thick the haze is will depend on the type of smoke bomb you use. The EG18, for example, pumps out a large amount of smoke but does so over the course of around 90 seconds. Its cousin, the EG18X, puts out the same amount of smoke but in a much shorter amount of time (around 45 seconds), giving a more intense effect.
If you want to really fill an area with smoke, using multiple smoke bombs is the way to go. Just be sure you have permission from the land owner before setting them off.
Smoke bombs for Halloween parties
Halloween parties continue to be hugely popular, and using smoke bombs is a great way to add an extra bit of excitement (and photo opportunities!) to the occasion.
It goes without saying that smoke bombs are for outdoor use only, so don't be tempted to let off one indoors. You could be left with a big clean up job, or even worse, serious damage to property.
As with any kind of party, preparation is key. Think about the effect you want to create, and how many smoke bombs you need. They're an ideal way to welcome people to your party, or to create a dramatic backdrop for some spooky social media snaps.
With a little planning and creativity, you can use smoke bombs to create some truly amazing shots. So get out there and start experimenting!
Which smoke bombs should I buy for Halloween?
Enola Gaye smoke bombs are the most trusted and most popular consumer smoke bombs on the planet, and can be purchased online directly from the Enola Gaye store.
There are plenty to choose from, along with a selection of Halloween smoke bomb packs designed especially for the spooky season.
Not sure which to pick? Choose from one of the ready-made Halloween packs, which contain a range of smoke bombs!