The Flash Grenade series of distraction grenades has been developed as an alternative to the Thunderflash. The Flash 1.0 produces a lower tone than the Thunderflash, resulting in a low pitched boom as opposed to a high frequency bang. It's fitted with a Top Pull igniter enabling the user to deploy the grenade with ease.
Common Uses: Field Use, Combat Simulation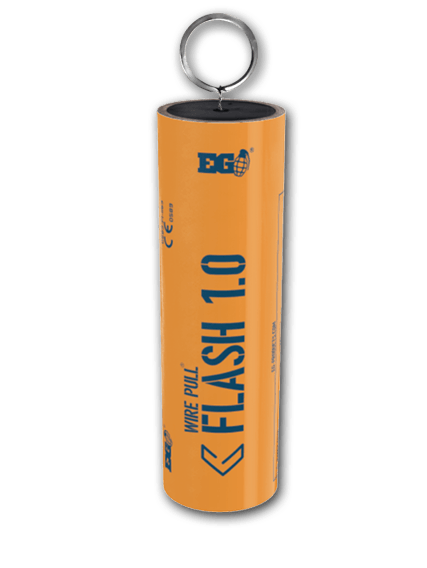 How to Purchase Flash 1.0
The Flash 1.0 is a Combat Field and Training product. It is not available for general use. Wholesale and field enquiries welcome. Worldwide shipping available for bulk orders. Not available in North America.
Distributed From: UK, Europe
When ignited, the Flash 1.0 will not produce a flame with the casing remaining cool enough to handle with gloves on.
Safety distance = 5m
For outdoor use only
Use gloves and eye protection
Designed with biodegradable materials, minimizing its impact on the environment.
99.5% biodegradable
Low CO2 output
Clean composition
Frequently asked questions about the Flash 1.0.
The product must be held to ignite, but then thrown. Never put any part of your body near the ignition point.
No, the Flash 1.0 should only be used outdoors with the land owner's permission.