The TP40 produces a stunning effect with a lower temperature smoke. The ignition system has been refined to cut out nearly all user error with an optimized Wire Pull® igniter that pulls from the top of the device. The TP40 produces the smoothest flow of smoke of all EG smoke products by way of a patented venting system, which cuts down on ash build up or exhaust blockages.
Common Uses: Photography, Film, TV & Video Production, Field Use & Simulation, Survival, Events, Industrial Testing.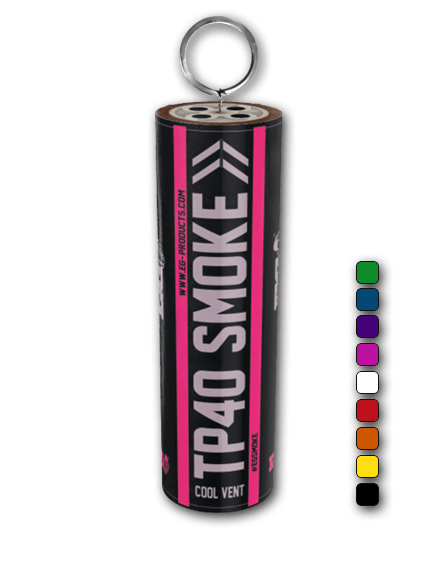 The TP40 is a general use product and can be purchased via our online stores in the UK, US and Canada. You can also find a dealer in your country. Worldwide shipping available for bulk orders.
Distributed From: USA, Canada, UK, Europe
The TP40 contains 50g of composition weight, and produces a large cloud over 45 seconds.

When ignited, the TP40 will not produce a flame with the casing remaining cool enough to handle with gloves on.
Safety distance = 2m
For outdoor use only
Use gloves and eye protection
Avoid inhalation of smoke
Designed with non-toxic dyes and more advanced, cleaner smoke compositions than that of current military units.
Non-toxic colored smoke
99.5% biodegradable
Low CO2 output
Clean smoke composition
Frequently asked questions about the TP40.
No, the TP40 should only be used outdoors with the land owner's permission.
The smoke will not stain unless it's held closely (within approx 30cm) to any surface, including clothing.
All our products are non-toxic and the unit itself is biodegradable after use.