The Twin Vent II produces a rapid plume of smoke from both ends of the tube, resulting in one of the most distinctive smoke effects currently available on the market. Especially popular with photographers, the Twin Vent II is also fitted with EG's ultra-reliable Wire Pull® igniter.
Common Uses: Photography, TV, Film & Video Production, Field Use and Simulation, Security Force Training.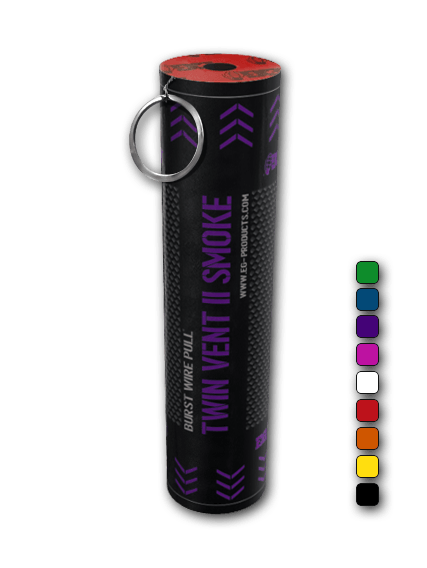 How to Purchase Twin Vent II
The Twin Vent II is a general use product and can be purchased via our online stores in the UK, US and Canada. You can also find a dealer in your country. Worldwide shipping available for bulk orders.
Distributed From: USA, Canada, UK, Europe
Net Explosive Content (± 7g)
The Twin Vent II contains 35g of composition weight, and produces a fast, vibrant cloud over approximately 25 seconds.

When ignited, the Twin Vent II will not produce a flame with the casing remaining cool enough to handle with gloves on.
Safety distance = 2m
For outdoor use only
Use gloves and eye protection
Avoid inhalation of smoke
Designed with non-toxic dyes and more advanced, cleaner smoke compositions than that of current military units.
Non-toxic colored smoke
99.5% biodegradable
Low CO2 output
Clean smoke composition
Frequently asked questions about the Twin Vent II.
No, the Can I use the Twin Vent II indoors? should only be used outdoors with the land owner's permission.
The smoke will not stain unless it's held closely (within approx 30cm) to any surface, including clothing.
Pull the ring firmly, at a 90 degree angle to the side of the Twin Vent II.
All our products are non-toxic and the unit itself is biodegradable after use.