Carefully designed by our experienced development team with detailed input from experienced military personnel, our Mil-X grenade contains a military style fly off lever with a military pin.
This military style fly off lever smoke grenade has a military pin with a burn time of 60 seconds which produces a massive amount of smoke.
The unparalleled color intensity is what sets us apart from the rest and makes our products unique. The MIL-X comes in seven colors.
EG started the smoke effect industry back in mid-90s, and our UK-based pyrotechnic development has remained unrivalled ever since.
Our products have passed strict government tests in the USA and Canada, and are CE approved in Europe.
The MIL-X is designed for professional use and may require a permit and/or pyrotechnics license. Contact us for more information.
EG smoke bombs are developed with user safety at the fore, and all of our smoke is non-toxic. The unit also has a fully biodegradable body.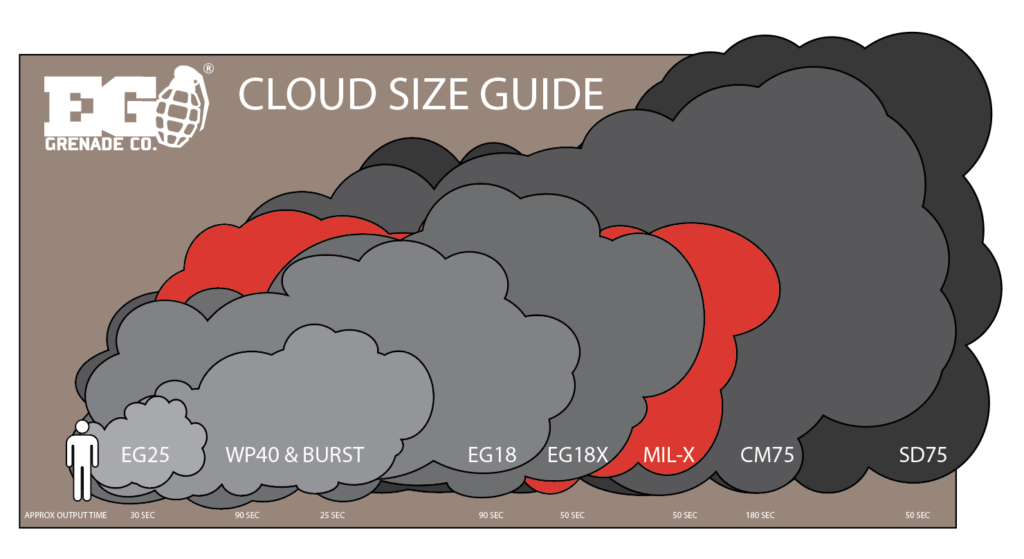 Thank you for your interest in our Mil-X smoke grenades. For the general consumer, our Mil-X smoke units can only be purchased at your local airsoft or paintball field as they carry a 'field only' classification. Please contact your local EG dealer for purchasing information. If you need assistance finding a field near you, visit https://enolagaye.com/dealers/ and enter your zip code!
Should you be military, law enforcement, and/or government agency affiliated personnel, you may be eligible to establish an account directly with us to purchase these units (and other units we manufacture). Please call 775-513-6600 x1 for more information.