EG's original fly off lever, military style training smoke grenade. The Mil-X is designed in-house and produces a dense smoke cloud, dispersed in under 60 seconds. It's the perfect smoke grenade for tactical training.
Constructed using a super tough plastic casing and spoon ignition, this unit allows for realistic training at a fraction of the cost of frontline products. All EG smoke grenades use cleaner formulas and lower Co2 than their military counterparts.
Common Uses: Military and Police Training, Field Use and Simulation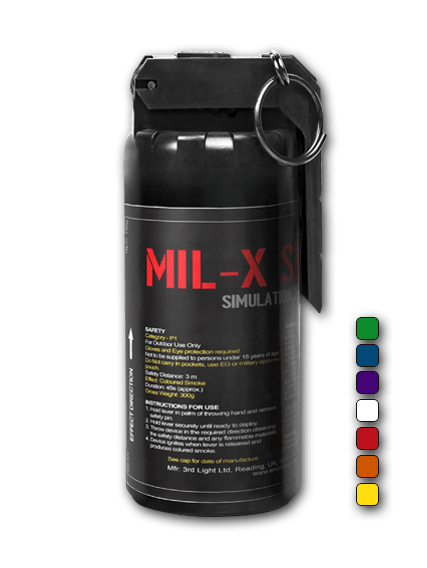 The Mil-X is a professional product. It is not available for general use. Professional enquiries, and military and government tenders welcome. Worldwide shipping available for bulk orders.
Distributed From: USA, Canada, UK, Europe
Net Explosive Content (± 20g)
The Mil-X contains 150g of composition weight, and produces a large cloud over 50 seconds.

When ignited, the Mil-X will not produce a flame, with the casing remaining cool enough to handle with gloves on.
For outdoor use only
Use gloves and eye protection
Avoid inhalation of smoke
Designed with non-toxic dyes and more advanced, cleaner smoke compositions than that of current military units.
Non-toxic colored smoke
Low CO2 output
Clean smoke composition
Frequently asked questions about the Mil-X.
The product must be held to ignite, but we do not recommend you hold the product for the entire duration as the casing warms up. Never put any part of your body near the smoke outlet. Always use gloves and eye protection.
No, the Mil-X should only be used outdoors with the land owner's permission.
The smoke will not stain unless it's held closely (within approx 30cm) to any surface, including clothing.
Hold with lever in palm or crook of thumb. Remove safety pin. The Mil-X is now 'live'. Continue to hold until ready to deploy.
All our products are non-toxic and the unit itself is biodegradable after use.