SD75 - The Fastest Cloud Maker
The SD75 delivers a very fast, super dense, huge smoke cloud. The SD75 outputs the same giant smoke cloud as our CM75,but the SD will put it out quicker in only 90 seconds.
Our biggest and fastest smoke device, the SD75 delivers massive quantities of smoke for 90 seconds
The unparalleled color intensity is what sets us apart from the rest and makes our products unique. The SD75 comes in eight colors.
EG started the smoke effect industry back in mid-90s, and our UK-based pyrotechnic development has remained unrivalled ever since.
Our products have passed strict government tests in the USA and Canada, and are CE approved in Europe.
The SD75 is designed for professional use and may require a permit and/or pyrotechnics license. Contact us for more information.
EG smoke bombs are developed with user safety at the fore, and all of our smoke is non-toxic. The unit also has a fully biodegradable body.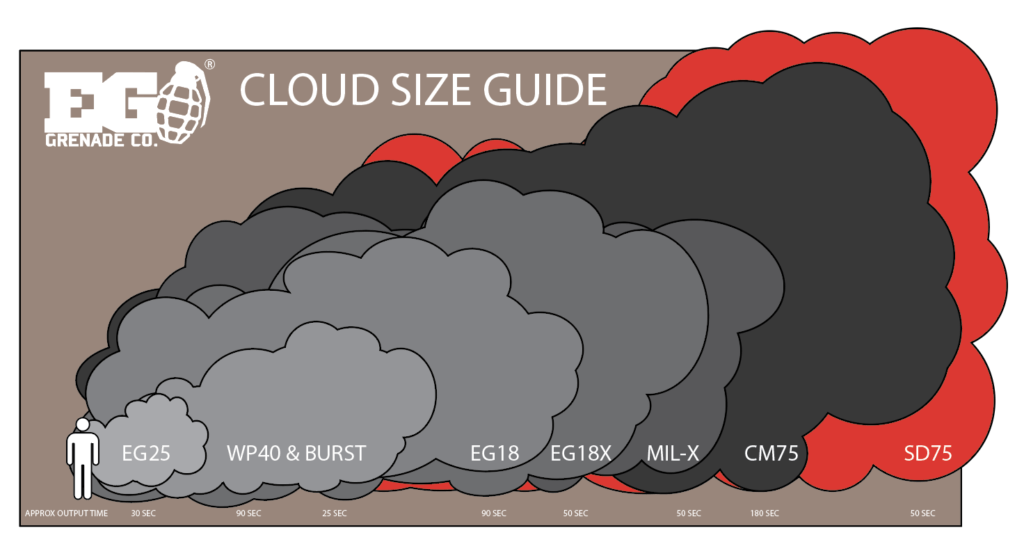 Thank you for your interest in our Cloud Maker CM75/SD75 smoke grenade series. The Cloud Maker smoke units are part our PRO Products line and do not hold the same exceptions as our Consumer smoke. These units are classified as a pyrotechnic and restrictions do apply. Many local laws require a permit or pyrotechnics license to purchase and/or use. You will need to reach out to your fire marshal, sheriff, or local authorities to find out your specific laws and regulations.
If you are looking for a very high output unit which you can purchase directly online with no additional permits necessary, the EG18X is a great option! It is manufactured in 8 different colors and will give you 90,000 cubic feet of smoke!
Should you be military, law enforcement, government agency affiliated personnel, and/or someone who holds a license for pyrotechnics, you may be eligible to establish an account directly with us to purchase these units. Please call 775-513-6600 x1 to inquire more.